This from Jeff Wadekamper
Airport Director
Helena Regional Airport Authority
"With all of the fires in Montana, the US Forest Service Tanker Base located here at the Helena Regional Airport has been busy with firefighting aircraft. The attached picture shows some of the recent aircraft using the base. This includes single engine tankers (air tractor crop dusters), to large fixed wing tankers (P2V Piston engine propeller and BEA146 jet tankers), and even 1 very large fixed wing tanker (DC-10 jet airliner converted to a fire tanker). There have also been several helicopters using water buckets that have landed here for fuel, maintenance, and crew rest."
Things are happening in the East Helena Cemetery this summer. The roads have been changed to open more burial lots, a sprinkler system is being installed and grass is going to be planted in new areas of the cemetery. As always, the goal of the East Helena Cemetery Association is to make the cemetery easier to maintain and to always keep it a respectful place for the final resting place for families and friends of East Helena.
The cemetery is totally supported by donations and the sale of lots. Due to the expenses of these new projects, we need to ask for additional help. We are asking people who are interested and would like to help to send us a donation. These can be mailed to: East Helena Cemetery c/o Shirley Thomas, Treasurer; 844 Expedition Trail, Helena, MT 59602. We are a tax-exempt organization, so donations made are tax deductible.
The East Helena Cemetery Association is a small group of volunteers who took over the cemetery about four years ago. We have family buried in the cemetery, but anyone interested can be part of the group. We hold monthly meetings and work days during the spring, summer and early fall. For more information, you can call Shirley Thomas, 406-227-5953; Denise Feller, 406-227-5250; Scott St. Clair,406-410-1125.
On July 28 I walked across the street from my house to the Old East Helena Cemetery to talk with the guys who are installing the new sprinkler system. I had my camera with me and when I turned around to go back home, this is what I saw: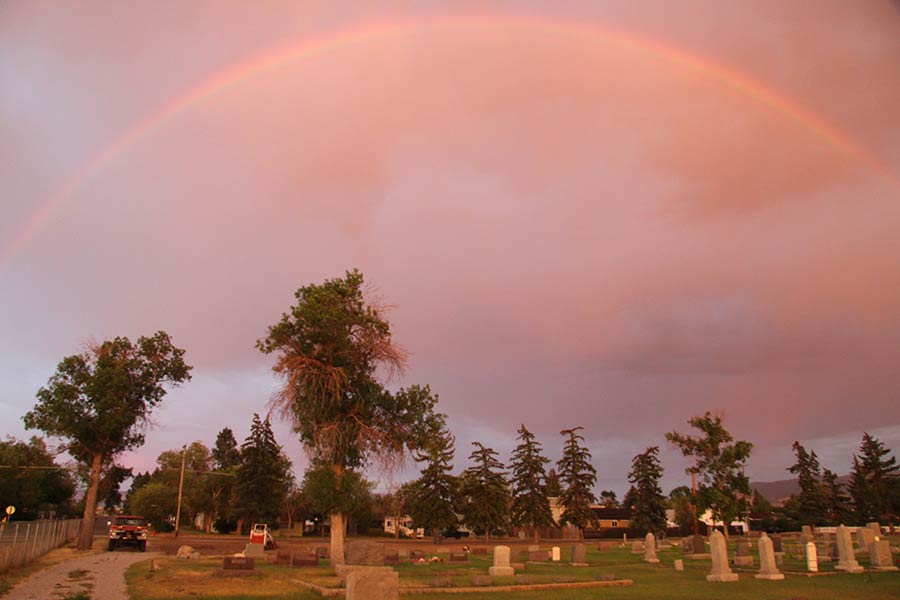 Recently East Helena Mayor James Schell alerted me to the fact that the 90th Anniversary of the Incorporation of East Helena as a city is this year. I decided to do a story on this 90th anniversary and research led me to the now long out of print history of East Helena, "Prickly Pear Junction ~ East Helena's Heritage". About 3 years ago I made a digital version of this book (also no longer available) for E.H.Historical Society and I spent the past 7 days going page by page looking for relevant content. This is what I found:
"Note: it is important to understand that the "Incorporated" City of East Helena is different than the original East Helena Town Site of 1888. Hence, two birthdays. Also, page number references for the book are for the digital version and may not correspond to the print version page numbers."
In "Prickly Pear Junction ~ East Helena's Heritage", on page 80 is this passage, "The City of East Helena, Montana was incorporated on August 7, 1927. A community water system was installed the next summer." The story continues with,"… a list of Mayors and City Clerks that have served East Helena 1927 – 2002.", which is too long to enter here. On the same page (80) are minutes of the first council meeting, "Minutes – Incorporation Meeting September 5, 1927, MINUTES OF THE FIRST MEETING OF COUNCIL OF THE CITY OF EAST HELENA, MONTANA – HELD SEPTEMBER 5TH, 1927 at 7:45 o'clock P.M."
So, yes, the Incorporated City of East Helena is indeed celebrating its 90th year. However, this is where the story gets most interesting. Apparently, East Helena has already celebrated a 100th Birthday Party! From, "Prickly Pear Junction ~ East Helena's Heritage", page 142, "Events were planned starting in October of 1987 and continuing through October of 1988. The activities consisted of flea markets, raffles, teen dances, pool and bowling tournaments, winter and summer games, safety day, and a pie auction."
The founding dates were determined by this passage on page 25,
"Prickly Pear Junction became a City ~ The town site of East Helena was filed in the office of the Lewis and Clark County Clerk and Recorder's office on September 29, 1888. Prickly Pear Junction, as it was known then, consisted primarily of the Riggs Farm House (later the home of Kovasiche (Kovich's) at 104 East Riggs, and the Clark Farm House on the Northeast corner of Riggs and Montana streets at 105 North Montana."
So, you can decide for yourselves whether we are 90 years old (1927) or 129 years old (1888) but one way or the other, HAPPY BIRTHDAY!
Personal note: I really wish they had never changed the name from Prickly Pear Junction to East Helena!
Travelers could soon get their first taste of Helena at Smokejumper Station.
Local food, local brews and spirits, and local baked goods are all part of the business plan for The Flying Ace LLC, which plans to operate the eatery at Helena Regional Airport.
Led by W. Paul Mabie and Melissa M. Case, The Flying Ace was selected Wednesday by the airport authority from among four bidders that expressed interest in providing food and beverage service, Jeff Wadekamper, airport director, said.
PENNIE'S ON THE GO
We will be at City Hall in East Helena
Tuesdays from 12 to 7
Shaved Ice and Chili, Hamburgers, Hot dogs.
Say you saw us on prickly pear junction
and get a free small shaved ice.
If you are relatively new to East Helena you may have wondered what those little yellow "ribbon" signs with names on them signify. You can see them on many power poles all over town. Recently I spoke with Kit Johnson (of J4 Automotive) and he told me this story:
Kit and Vi Johnson of J4 Automotive, having served our country as a veteran family of Desert Storm, wish to pay tribute to our fellow military members and families of the East Helena community. Kit and Vi have been granted permission from the City of East Helena and Northwestern Energy to attach yellow ribbons to the power poles that align Main Street in East Helena. These yellow ribbons pay tribute to the Men and Women of the East Helena community who so bravely serve our country and defend our freedom.
To qualify, the soldier must either be on active duty or a National Guard or Reservist who has been deployed for active duty. The ribbon will be removed in three years or when it has deteriorated due to weather or damage.
If you have more questions or want to nominate a soldier for this honor, please contact Kit or Vi at J4 Automotive, 227-8622.
The new welcome sign at the entrance to East Helena was an Eagle Scouts Troop 212 project by brothers Tyler Worthy, 14 years old and Robert Worthy, 16 years old. The brothers began working with East Helena City Council in February, 2016.
Ribbon cutting dedication, flag raising ceremony, and turnover of the new sign was held Saturday, December 17, 2016.
In the second photo from the left (below) are Tyler Worthy (Left) and Robert Worthy (Right)

The Helena Regional Airport is a commercial service airport served by Delta, United and Alaska Airlines.
The airport is also home to a diverse range of aviation activities including general and corporate aviation, 23 based military aircraft, flight training school, two air ambulance companies, air cargo, wildland firefighting aircraft, aircraft repair stations, US Customs landing rights clearance facility,
and a regional aircraft rescue fire training center traini9ng airport firefighters from all over the US and Canada.
The airport is owned and operated by the Helena Regional Airport Authority and operated as an enterprise fund, using no local community taxes or mil levies to fund the ongoing operation and maintenance of the 1,400 acre airport complex. The airport has a diversified revenue portfolio including airline related activities (33%), other aviation (33%), and non-aeronautical businesses (34%). These business activities contribute to the Helena area economy and ensure the airport remains a viable operation despite the high costs of operating a commercial service airport in a small community.
Read Our Latest Newsletter
CLICK HERE!
Learn more at www.helenaairport.com
(View all Departure and Arrival times!)
CLICK HERE!
NOTICE THAT MONTANA IS ON THE LIST REQUIRING ALTERNATE ID.
Jeff Wadekamper, Airport Director and Ross Marty of HRAA
told me that even though this Act is still a year away
that lots of people are inquiring about Real ID.
J4 Automotive Update for 2017
Kit and Vi Johnson started J4 Automotive over 22 years ago in 1994 with an SBA loan, some help from family members and a lot of prayers. Fast forward to today and we find the shop doing close to 1 million dollars in gross sales and still family owned and operated. The second generation of Johnson's are now working in the business, with Kit and Vi's daughter Nikita and her husband Chris carrying on the strong tradition of outstanding automotive repair and service and giving back to our community. The third generation of Johnson's (the grand kids shown sitting with Viola) are growing up in the shop just like their mothers did and will most likely continue the family tradition well into the future.
J4 Automotive's mission statement stresses community service, which they do a lot of. The yellow veterans ribbons, the kids activity tent in the Christmas stroll, sponsor of the spring school clean-up, the Halloween movie in the park and Frite-night are but some of the events Kit and Vi and the J4 Crew organize and participate in. Their experienced staff of seven, including three Master Mechanics, fix all makes and models of vehicles and are the recipient of many awards. The National Technician of the Year, and the Helena Chamber of Commerce Small Business of the Year are just a few examples of their commitment to excellence.
J4 Automotive is a Better Business Bureau A+ rated member, AAA Top Shop and NAPA AutoCare center that enjoys a 5 star Google and Yelp rating. Give them a call next time you need advice or maintenance and repair on your vehicle and use their convenient pick-up service while you work! 227-8622 or make an appointment on line at j4 Automotive.com.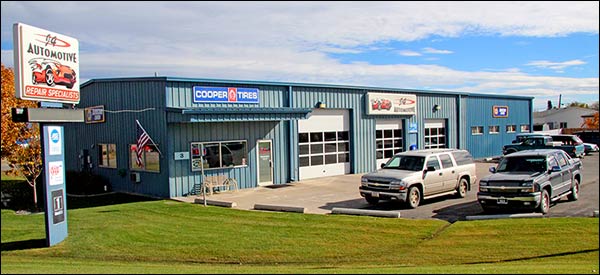 Principal's Perspective
"Don't worry that children never listen to you; worry that they are always watching you."
– Robert Fulghum
I don't know what your memories of childhood summers contain, but I still remember those days of my own youth. As a kid I always had lots of ideas of what I wanted to do with my suddenly enormous amount of uncharted hours, but unfortunately that rarely meshed with what my parents had planned for me. I didn't necessarily like it at the time, but my parents were quite skilled at making sure a good portion of the summer day was structured. Often, this entailed chores around the ranch house and acreage we lived on in the valley. There was always something on Dad's 'to do' list for us to tackle. It wasn't really 'hard labor', though we often complained to the contrary. Looking back, my parents were pretty sharp. Keeping us busy outside as much as possible kept us out of mischief, no doubt. It also taught me at a young age what it meant to work for a wage; in this case a small weekly allowance. We learned quickly that no work meant no 'pay check.' As summer slides into view, help your child stay on some sort of schedule each day. A structured day brings predictability to their lives, and that provides a sense of security. As educators, the days when we have changes in routines are often the most challenging for our students. Build in some R & R time as well. Enjoy the sun!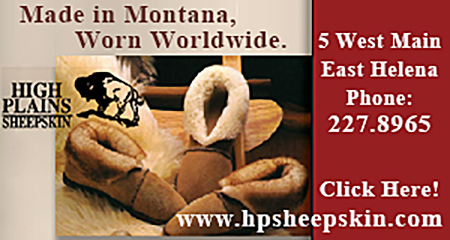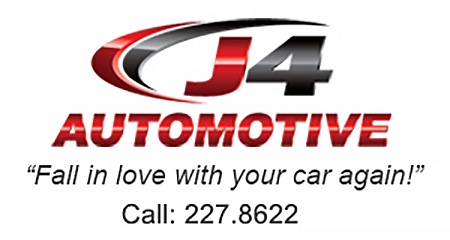 Please Support These Sponsors of Prickly Pear Junction "Cloud"!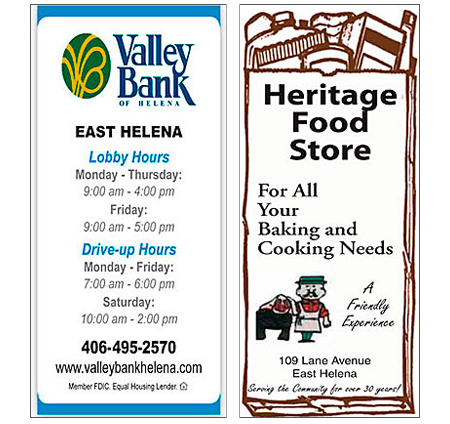 Sales of my three books on the ETSY website also
help support Prickly Pear Junction "CLOUD".
Click on a book cover to see it on ETSY!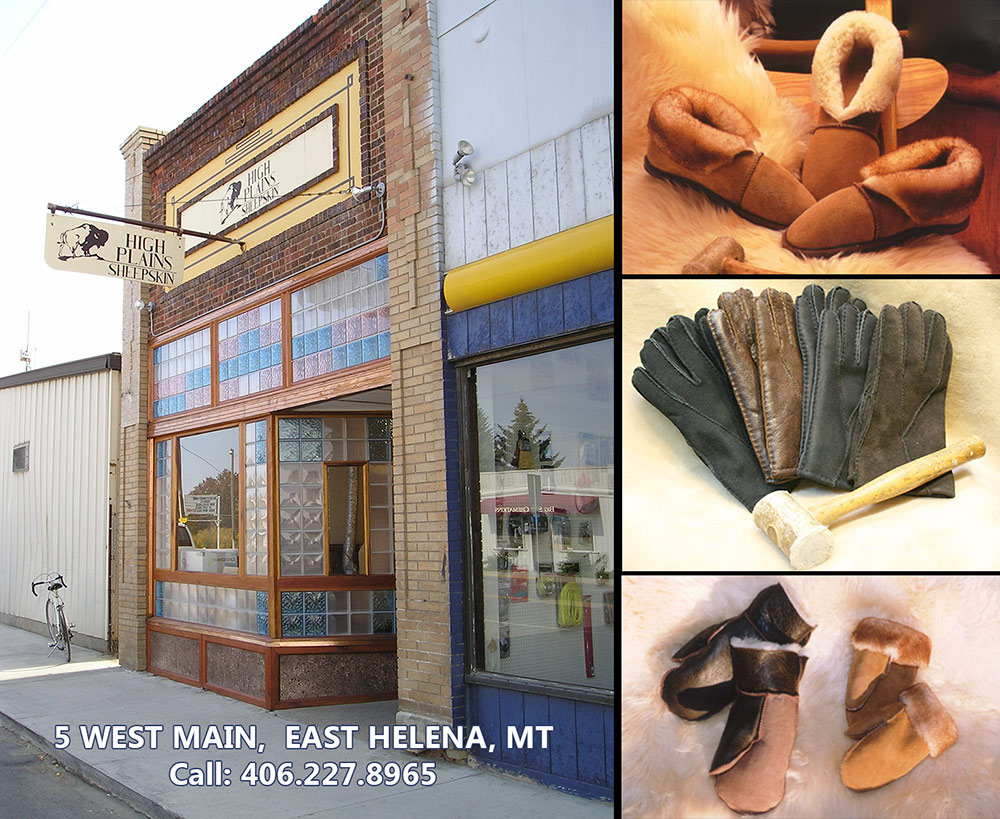 HIGH PLAINS SHEEPSKIN
Twenty three years ago I bought a building on Main Street in downtown East Helena for a practical reason: it was the closest commercial building to my house that I could afford. I had in mind to change the nature of my business from retail to mail-order and do away with most of the products I produced before and concentrate on making sheepskin footwear, slippers to be exact. It turned out to be a great decision because of something that I didn't expect initially. What I didn't know then was that East Helena is a truly great place to have a business.  I sure know it now, and it keeps getting reinforced. Downtown may only be a couple of blocks long but it has filled up with experienced businesses in for the long haul.  Most buildings have been upgraded and there are still a few vacancies offering opportunities for people with the next good idea.  There are several reasons that East Helena works out so well for an independent business. The business space is reasonably priced and still an easy distance from the population of the whole Helena area.
Access to banks, post office, and city services are a few things that are just down the street. The primary element that makes for a good location is intangible but East Helena has it in abundance: great neighbors – both in the business community and residents of the town. I could start listing the great neighbors, but I don't want to play favorites or omit anyone. However I will single out one East Helena institution for special mention. We are a mail-order business and we ship out over two thousand packages a year. The East Helena Post Office is a local partner that we could hardly do without.   Don,  Dorrie, Staci and now Terry really go out of their way to streamline the process and get our goods into the postal stream as effortlessly as possible. I owe those folks a big thank you. HIGH PLAINS SHEEPSKIN was started in the cold, windy basins of southern Wyoming (hence the "HIGH PLAINS") in 1975. My first shop was in Laramie, Wyoming. After 9 years there, we moved to Last Chance Gulch in Helena, Montana. In 1993 we moved a few miles down the road to our current location at 5 West Main in East Helena.  We are across the street from Dave and Annie's Main Street Eats and Dr Aichlmayr's Rocky Mountain Dental Clinic, we are next door to Stacks. This is our factory, warehouse, shipping center and retail outlet all rolled into one. Prior to starting High Plains, I had several years of experience in the tanning and industrial sheepskin business. In the tannery I worked as a sheepskin finisher and grader. As an apprentice under an old school Czech craftsman, I made sheepskin paint rollers, industrial applicators and saddle pads. This has always been a small business. Right now I work with Zach who hired on a few years ago; he is getting the hang of this work real fast. The two of us work all year to make the thousands of slippers, hats and mittens that we ship to all 50 states, Canada and overseas.
Remember To Shop Locally In East Helena!
HERITAGE FOOD STORE
Meet the new owner of the Heritage Food Store in East Helena. Doug Carpenter was born in Helena and has 25 years experience in the grocery business. This is his first ownership of a grocery store. He is committed to continued and long-term support of many non-profit organizations including Food Share and United Way. Heritage will contribute food on a regular basis, but equally important they will continue a Heritage tradition of allowing customers to contribute and collect food for those in need. Heritage also supports many local businesses. Prickly Pear Junction "Cloud" offers a warm welcome to Doug and his family. We know Heritage will continue to be an invaluable asset to East Helena! So please remember to shop locally. Phone: 227.5304 ~ 109 South Lane, East Helena, MT Hours: 7 a.m  to 9 p.m ~ 7 Days
Great Northern Carousel Helena, Montana, Photos: David George Hill http://davidhill.tv
Safely Pay for PPJ "Cloud" Advertising or Gift Us Via PayPal
Use this button to pay for PPJ "Cloud" advertising or to gift us:
Prickly Pear Junction has always been free to our readers. If you read this newspaper and think it is worth supporting, please consider showing your gratitude by gifting us. It is easy and safe via PayPal with these buttons.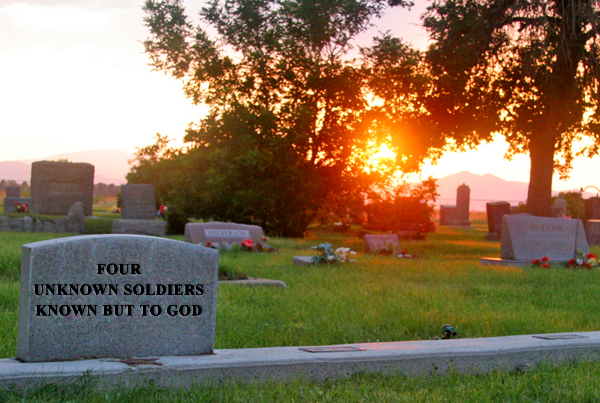 "KNOWN BUT TO GOD" The four graves in the East Helena Cemetery were marked with a brass star and four small plaques identifying those buried there only as "Unknown Soldier." But this is now changed – in part because of misguided acts of some vandals. The East Helena VFW Post had a monument made in their honor which now marks the soldiers' final resting place. The soldiers will no longer be buried in near obscurity, but they will remain a mystery. The star is marked with GAR and they could have fought in the Civil War or in the West's Indian wars. The cemetery's records do not go past beyond the 1920's. So on Veteran's Day, November 11, 1996 a very impressive "Unknown Soldier Dedication" was held to honor these veterans."