The new welcome sign at the entrance to East Helena was an Eagle Scouts Troop 212 project by brothers Tyler Worthy, 14 years old and Robert Worthy, 16 years old. The brothers began working with East Helena City Council in February, 2016.
Ribbon cutting dedication, flag raising ceremony, and turnover of the new sign was held Saturday, December 17, 2016.
In the second photo from the left (below) are Tyler Worthy (Left) and Robert Worthy (Right)
The Helena Regional Airport is a commercial service airport served by Delta, United and Alaska Airlines.
The airport is also home to a diverse range of aviation activities including general and corporate aviation, 23 based military aircraft, flight training school, two air ambulance companies, air cargo, wildland firefighting aircraft, aircraft repair stations, US Customs landing rights clearance facility,
and a regional aircraft rescue fire training center traini9ng airport firefighters from all over the US and Canada.
The airport is owned and operated by the Helena Regional Airport Authority and operated as an enterprise fund, using no local community taxes or mil levies to fund the ongoing operation and maintenance of the 1,400 acre airport complex. The airport has a diversified revenue portfolio including airline related activities (33%), other aviation (33%), and non-aeronautical businesses (34%). These business activities contribute to the Helena area economy and ensure the airport remains a viable operation despite the high costs of operating a commercial service airport in a small community.
Read Our Latest Newsletter
CLICK HERE!
Learn more at www.helenaairport.com
(View all Departure and Arrival times!)
CLICK HERE!
NOTICE THAT MONTANA IS ON THE LIST REQUIRING ALTERNATE ID.
Jeff Wadekamper, Airport Director and Ross Marty of HRAA
told me that even though this Act is still a year away
that lots of people are inquiring about Real ID.
J4 Automotive Update for 2017
Kit and Vi Johnson started J4 Automotive over 22 years ago in 1994 with an SBA loan, some help from family members and a lot of prayers. Fast forward to today and we find the shop doing close to 1 million dollars in gross sales and still family owned and operated. The second generation of Johnson's are now working in the business, with Kit and Vi's daughter Nikita and her husband Chris carrying on the strong tradition of outstanding automotive repair and service and giving back to our community. The third generation of Johnson's (the grand kids shown sitting with Viola) are growing up in the shop just like their mothers did and will most likely continue the family tradition well into the future.
J4 Automotive's mission statement stresses community service, which they do a lot of. The yellow veterans ribbons, the kids activity tent in the Christmas stroll, sponsor of the spring school clean-up, the Halloween movie in the park and Frite-night are but some of the events Kit and Vi and the J4 Crew organize and participate in. Their experienced staff of seven, including three Master Mechanics, fix all makes and models of vehicles and are the recipient of many awards. The National Technician of the Year, and the Helena Chamber of Commerce Small Business of the Year are just a few examples of their commitment to excellence.
J4 Automotive is a Better Business Bureau A+ rated member, AAA Top Shop and NAPA AutoCare center that enjoys a 5 star Google and Yelp rating. Give them a call next time you need advice or maintenance and repair on your vehicle and use their convenient pick-up service while you work! 227-8622 or make an appointment on line at j4 Automotive.com.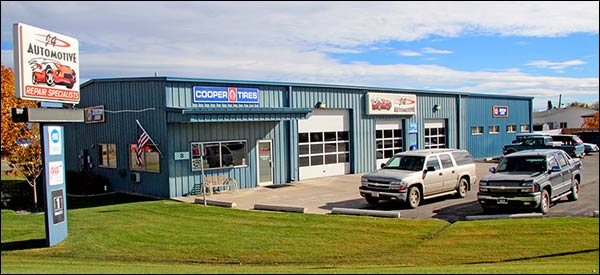 Principal McMahon
Principal's Perspective
"Don't worry that children never listen to you; worry that they are always watching you."
– Robert Fulghum
As educators we sometimes forget that we are being watched 24/7. Students definitely know when we've been 'bad or good' so yes, we need to be good for goodness sake. Kids are taking it all in. They are always watching us and feeding off the information their eyes and ears are collecting. As parents, you face the same challenge. Kids learn by watching and mimicking what they see at home, too. Nothing is more humbling than watching a child react in a less than appropriate manner and realizing that he/she learned that inappropriate response from you. Ouch. When our kids were young, I know my wife was a bit concerned about what our three young ladies were learning by watching their Dad. Admittedly, there was justified cause for concern. I don't think I did any permanent damage but I'd love to have 'redo' on a few impressionable moments in their upbringing. I can't, though, so instead I promise to do a better job remembering this with the 8 grandkids. Nana's watching.

Please support our sponsors!
Sales of my three books on the ETSY website also
help support Prickly Pear Junction "CLOUD".
Click on a book cover to see it on ETSY!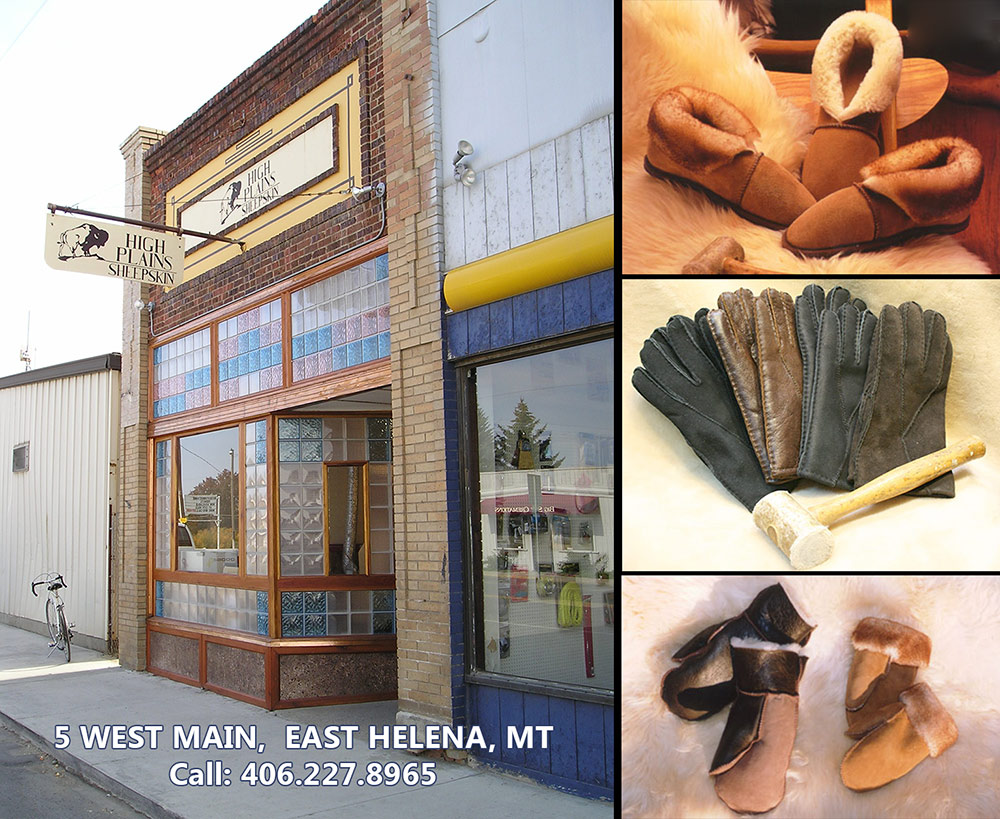 HIGH PLAINS SHEEPSKIN
Twenty three years ago I bought a building on Main Street in downtown East Helena for a practical reason: it was the closest commercial building to my house that I could afford. I had in mind to change the nature of my business from retail to mail-order and do away with most of the products I produced before and concentrate on making sheepskin footwear, slippers to be exact. It turned out to be a great decision because of something that I didn't expect initially. What I didn't know then was that East Helena is a truly great place to have a business.  I sure know it now, and it keeps getting reinforced. Downtown may only be a couple of blocks long but it has filled up with experienced businesses in for the long haul.  Most buildings have been upgraded and there are still a few vacancies offering opportunities for people with the next good idea.  There are several reasons that East Helena works out so well for an independent business. The business space is reasonably priced and still an easy distance from the population of the whole Helena area.
Access to banks, post office, and city services are a few things that are just down the street. The primary element that makes for a good location is intangible but East Helena has it in abundance: great neighbors – both in the business community and residents of the town. I could start listing the great neighbors, but I don't want to play favorites or omit anyone. However I will single out one East Helena institution for special mention. We are a mail-order business and we ship out over two thousand packages a year. The East Helena Post Office is a local partner that we could hardly do without.   Don,  Dorrie, Staci and now Terry really go out of their way to streamline the process and get our goods into the postal stream as effortlessly as possible. I owe those folks a big thank you. HIGH PLAINS SHEEPSKIN was started in the cold, windy basins of southern Wyoming (hence the "HIGH PLAINS") in 1975. My first shop was in Laramie, Wyoming. After 9 years there, we moved to Last Chance Gulch in Helena, Montana. In 1993 we moved a few miles down the road to our current location at 5 West Main in East Helena.  We are across the street from Dave and Annie's Main Street Eats and Dr Aichlmayr's Rocky Mountain Dental Clinic, we are next door to Stacks. This is our factory, warehouse, shipping center and retail outlet all rolled into one. Prior to starting High Plains, I had several years of experience in the tanning and industrial sheepskin business. In the tannery I worked as a sheepskin finisher and grader. As an apprentice under an old school Czech craftsman, I made sheepskin paint rollers, industrial applicators and saddle pads. This has always been a small business. Right now I work with Zach who hired on a few years ago; he is getting the hang of this work real fast. The two of us work all year to make the thousands of slippers, hats and mittens that we ship to all 50 states, Canada and overseas.
Remember To Shop Locally In East Helena!
HERITAGE FOOD STORE
Meet the new owner of the Heritage Food Store in East Helena. Doug Carpenter was born in Helena and has 25 years experience in the grocery business. This is his first ownership of a grocery store. He is committed to continued and long-term support of many non-profit organizations including Food Share and United Way. Heritage will contribute food on a regular basis, but equally important they will continue a Heritage tradition of allowing customers to contribute and collect food for those in need. Heritage also supports many local businesses. Prickly Pear Junction "Cloud" offers a warm welcome to Doug and his family. We know Heritage will continue to be an invaluable asset to East Helena! So please remember to shop locally. Phone: 227.5304 ~ 109 South Lane, East Helena, MT Hours: 7 a.m  to 9 p.m ~ 7 Days
Great Northern Carousel Helena, Montana, Photos: David George Hill http://davidhill.tv
Safely Pay for PPJ "Cloud" Advertising or Gift Us Via PayPal
Use this button to pay for PPJ "Cloud" advertising or to gift us:
Prickly Pear Junction has always been free to our readers. If you read this newspaper and think it is worth supporting, please consider showing your gratitude by gifting us. It is easy and safe via PayPal with these buttons.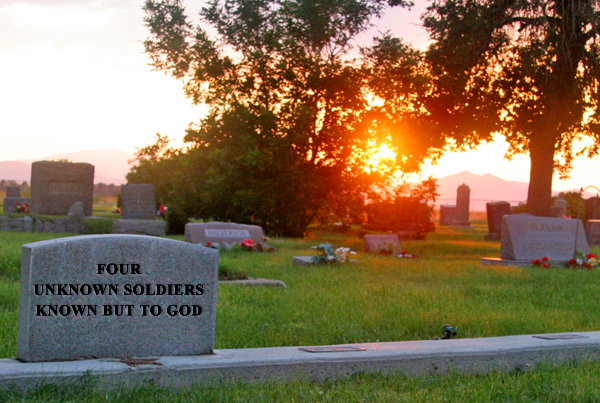 "KNOWN BUT TO GOD" The four graves in the East Helena Cemetery were marked with a brass star and four small plaques identifying those buried there only as "Unknown Soldier." But this is now changed – in part because of misguided acts of some vandals. The East Helena VFW Post had a monument made in their honor which now marks the soldiers' final resting place. The soldiers will no longer be buried in near obscurity, but they will remain a mystery. The star is marked with GAR and they could have fought in the Civil War or in the West's Indian wars. The cemetery's records do not go past beyond the 1920's. So on Veteran's Day, November 11, 1996 a very impressive "Unknown Soldier Dedication" was held to honor these veterans."